Installations of the Connecting Hearts Project
Heart installations have now occurred in a variety of formats allowing smaller numbers of hearts to be shown and interacted with.
Open Hearts
An open circle of 200–400 cloth-wrapped hearts that has a central empty area of approximately one metre in diameter. A white cloth hangs nearby (replaced in some versions by a temporary construction fence), next to a table with pens. Participants are invited to step into the empty space, pick up a wrapped heart, unwrap it and place in the empty space. They then write their own response on the cloth and pin or tie it to the cloth/fence. They are asked to reflect on their own connection to people seeking asylum and what it means to belong. Over time the installation transforms as the hearts move to the centre of the space and are unwrapped, changing from small white rock shapes to a circle of exposed terracotta hearts.
Open Hearts installations:
June 2016, finalist Chippendale New World Art Prize, Chippendale, NSW
October 2016, Seeking Refuge exhibition, Tuggeranong Art Centre, ACT
June 2017, Moving Nations, Collab Gallery, Chippendale, NSW
October 2017, Post-graduate Exhibition, National Art School, Darlinghurst, NSW
June 2018, Post-graduate Cultural Studies Conference, King's College London
Heart Spiral
Between 700 and 2000 wrapped hearts are laid out in a double spiral on the ground. The double spiral allows a walker to walk to the centre of the spiral and continue, exiting at a different point. Wire is strung up or temporary fencing is placed nearby, adjacent to a table for writing responses on cloth.
The spiral takes time to walk, with attention required to avoid stepping on the rows of hearts. The meditative process of a spiral allows views forward and back of wrapped hearts until the participant stops to pick up and unwrap a heart. The heart is replaced in the spiral, while the cloth is kept as the participant continues through the spiral to the table to record their own response.
Over the course of the event (depending on venue this can be one day or more) the spiral transforms as hearts are unwrapped.



Heart Spiral installations
December 10, 2016 Opening Hearts, First Fleet Park, Circular Quay, Sydney
Press: Sydney Morning Herald, 15 November 2016: 'Heartbreaking: The toll from Nauru and Manus Island Goes on Show in Sydney'; Guardian, 7 December 2016, Opening Hearts Unwraps Offshore Detention: Its About Letting Yourself Feel Something
Opening Hearts was made possible by generous donations by way of pozible.com from the people listed here:
Sponsor – $500: Pamela Freeman
Principal Supporters – $250: Anna Buch • Sarah Gibson • Terry Godworth • Sue Kucharova • Chris Ryan
Strong Supporters – $100: Louise and Mark • Elizabeth Agius • Tim Carroll • Danuta and Geoffrey Chessor • Sue Cunningham • Betty Hounslow • Janet Kossy • Keith March • Tom Massie • Deb Michels • Fran and Peter Munro • Mary O'Sullivan • Peter Pichler • Ann Porcino • Judy Quinn • Lyla Rogan • Carol Ruff • Ana Scarf • Smith Smithisamadog • Richard and Agnes Tulloch • Suzanne Walker • Alice Wong • Sue and David Young • Maggie Zhao
Friends and Supporters:Jennifer • Sophie • Sarah Ahern • Martha Ansara • Anny Bremner • Rhonda Cooper • Gwyn D • Maree Delofski • Ella Dreyfus • Chris and Marion Dutfield • Favour Economy • Laila Fanebust • Anna Fienberg • Mary Flaskas • Deborah Georgiou • Su Hanfling • Allison Irvin • Karen Jameyson • Monica Joyce • Jim Kable • Paivi Marjatta Kaukomaa • Bronwyn Kemp • Steve Kennedy • Rosemary King • Medina Krcic • Lynda Mack • Tim and Marj McMullen • Sue Murray • Lisa Phanthavady • Kathy Prokhovnik • Nicola Robinson • Paula Shaw • Jodi Stewart • Stephen Vella • Cassandra Wilkinson
May 7–10, 2016 Opening Hearts, Masonic Centre, Sydney
March 24–25 2018 Moving Hearts, Migration Museum, London
Site specific installations
Stairway to the Heart, September 2018, Chatswood Concourse, NSW
A one day event, Stairway to the Heart was installed on the massive bank of stairs leading to the Willoughby Council Performing Arts Centre. Two thirty-metre lengths of white open-weave muslin cascaded down the staircase. Wire was strung on a banister between the two lengths of cloth. A large ceramic heart with an inscribed map of the world was placed between them at the foot of the stairs. Each length of cloth held a total of 800 hearts, wrapped and unwrapped. The public were invited to walk up the stairs, read the inscriptions on the unwrapped hearts, and then pick up a wrapped heart, unwrap it, replace it on the stair and use the cloth to write a response on. Responses were then tied with red ties to the wire strung between the staircases.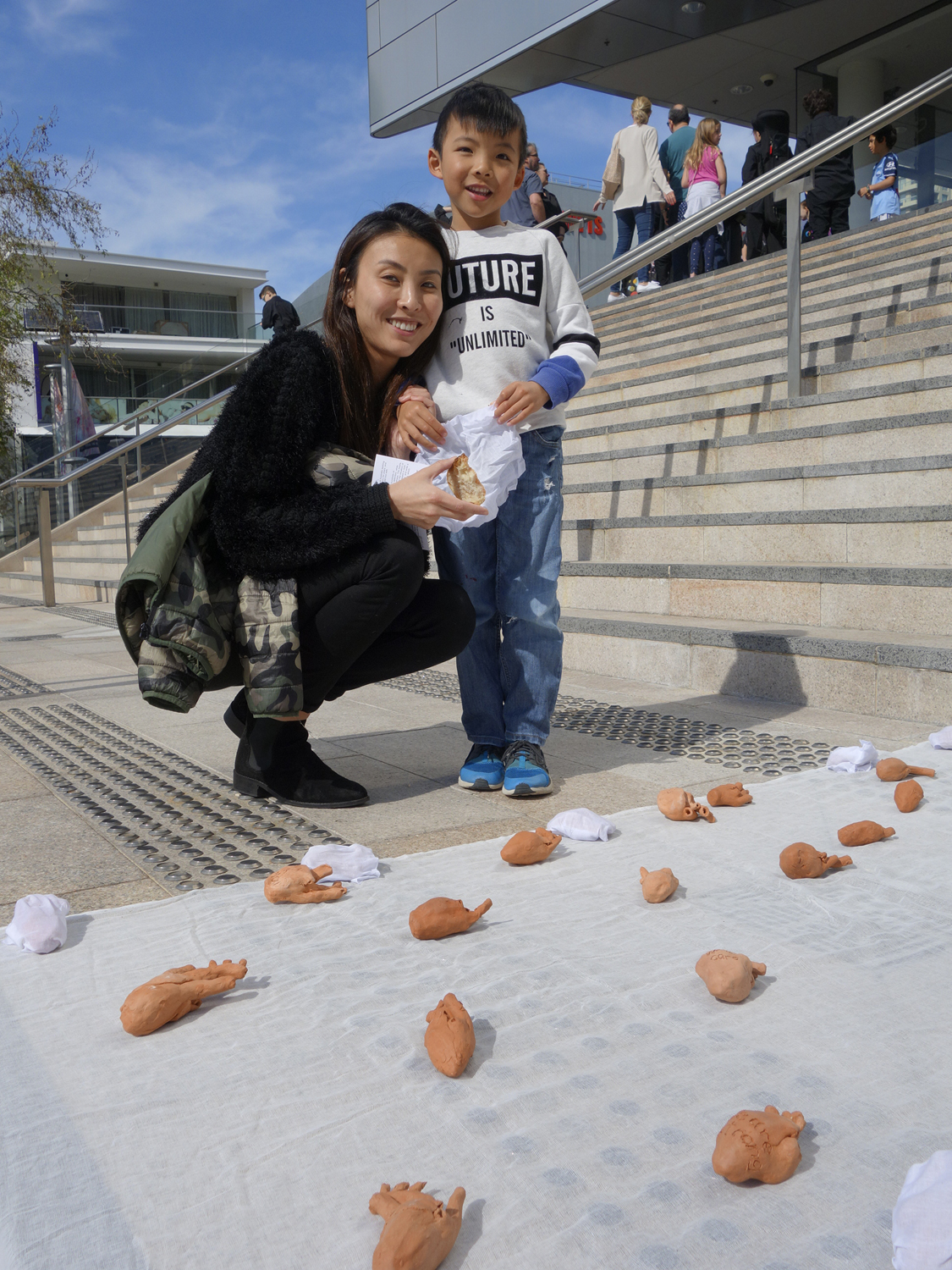 Heart Awakening, August 2017, National Art School, Darlinghurst, NSW
A one day event, Heart Awakening was an Open Day installation at the art school. Around 500 unwrapped hearts were strewn on a patch of bare earth, placed there in the week beforehand so that they had been exposed to wind and rain. Seven large turquoise-glazed bowls were placed among the hearts and filled with water. Each bowl was inscribed in English and in another language (Arabic, Farsi, Tamil, Spanish) with Again, my heart is beating.
Participants were invited to enter the field, pick up a heart, brush it clean and ritually wash it in one of the bowls. They then took the heart and wrapped it in white cloth and recorded their own responses in a book if they wished.